Schedule a Private Tasting with a Résolu Cellars Winemaker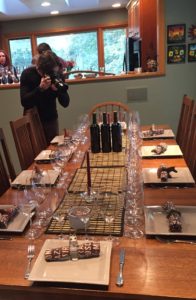 By appointment only – minimum 24 hour advance scheduling please.

Complete the form below or
Call 503.482.VINO.
Note: Hosting winemaker depends on schedules, we will do our best to accommodate any special requests.

Groups of 6-12
$10 per person tasting fee, minimum $60. (See below for zero tasting fees.)
Seated tasting with the winemaker, taste and discuss four to eight wines, depending on group size.  Will tailor to group preference as much as possible.
Cheese and Charcuterie board included with tasting.
One tasting fee refunded with every two bottles purchased up to full amount of tasting fees.  Discounts available for half and full case purchases.
Short winery tour and discussion on current state in the winemaking process.
---
A tasting at Résolu Cellars carries the culture of our community.  Good wine paired with the right food and people equates to a memorable experience.